Racist tweet accused UKIP councillor told to resign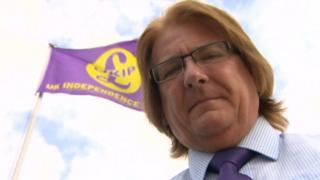 A parish councillor accused of posting a racist comment on Twitter has been asked to resign.
Philip Winter, of Almondsbury Parish Council, was immediately suspended by UKIP over offensive language about black people in the tweet.
Mr Winter said his account was hacked and "words in that tweet were altered".
But chairman Phil Hall said the council "strongly deplores" the comments and had unanimously decided to ask him to stand down.
Councillor John Calver, who brought the resolution, said the racist comments were "totally disgraceful" and the council wanted to make it clear it "strongly deplores discriminatory behaviour".