Mayor orders probe into Bristol City Council's finances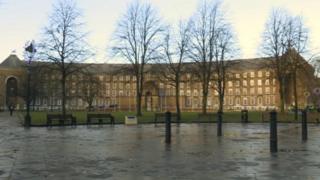 A new investigation has been ordered into financial mismanagement and the behaviour of senior officers at Bristol City Council.
In a six-and-a-half hour meeting councillors were told the city's finances had been damaged by the failure of previous savings programmes.
Mayor Marvin Rees said he would ask the Local Government Association to investigate what happened.
It follows a report last month which highlighted a series of failings.
That report was commissioned after Mr Rees was elected to office last May.
He said: "The terms of reference behind Steve Bundred's report went so far - we talk about collective failure of leadership, we talk about difficult decisions being withheld in the run-up to last year's election, we talk about slippage and unallocated savings.
"These are profound challenges to the local authority and the investigation is just as serious as those challenges are."
During Tuesday's meeting it was revealed the city's council tax would rise by 4.99% - representing £86 on a band D property.
The budget for 2017-18 was set at £364.7m. It approved 112 savings proposals but said it still had to find more than £40m of further cuts.