Harry Studley shooting: Jordan Walters jailed for two years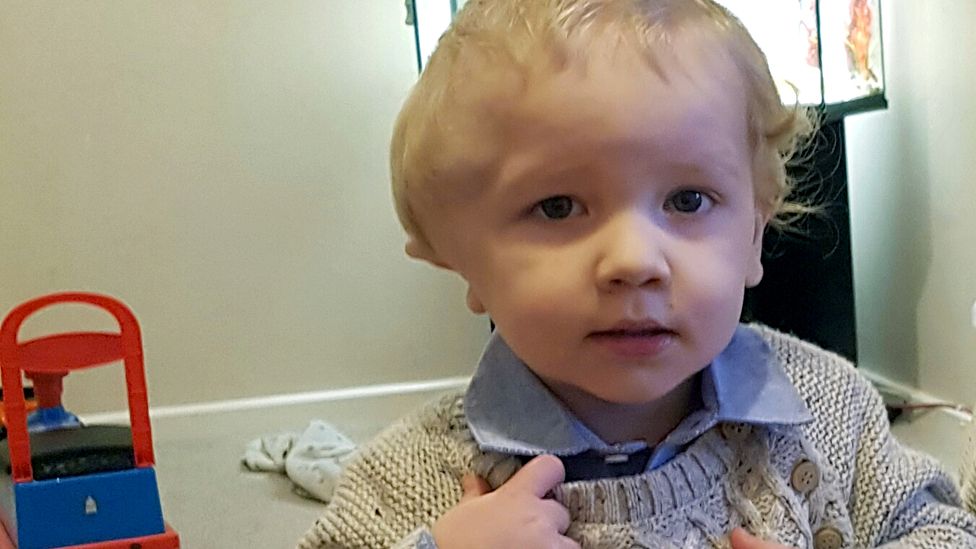 A man who shot a toddler in the head with an airgun to "frighten him" has been jailed for two years.
Harry Studley, now aged two, still has a pellet lodged in his brain after Jordan Walters shot him at a flat in Bristol last July.
Judge Julian Lambert told Walters the "accident" had been "grossly irresponsible".
"It's explicit that you didn't mean to harm him but you took a risk," he said.
In mitigation, Walters' lawyer told the court his client "recognised the impact of his reckless act", adding what he did had "divided a community and that he is sorry he did something so stupid, he cannot forgive himself for that".
The court was told doctors are still concerned about Harry's seizures and his sight - with 50% in one eye, and 25% in the other.
In a statement read to the court, his parents Ed Studley and Amy Allen said Harry "had difficulty recognising them now" and that "he is not such a happy playmate with his brother".
"Harry's prognosis is not very optimistic," they said.
The couple have moved home and their lives have been "drastically changed" and Mr Studley has had to leave his job to care for Harry.
Speaking outside court his parents said "justice has been seen to be done" and Jordan Walters "who caused Harry harm and such serious injuries has been dealt with by the court".
"Harry's struggles continue and will do for the rest of his life and that cannot be changed. Fortunately we still have Harry in our lives.
"As a family we would like to see changes made to the law so that people who possess high-powered air rifles are made to be more responsible for their actions while at home or elsewhere."
At an earlier hearing, Walters' partner Emma Horseman was found not guilty of GBH by aiding or abetting the shooting.
The court was told Harry lived with his parents and brother in a top-floor flat in Bishport Avenue, Hartcliffe, and Ms Horseman lived on the second floor with Walters and their two children.
They had been friends for about six years and their children played together.
On the day of the incident Harry's mother Amy Allen had taken him and his brother to the flat and had been sitting on a sofa holding Harry, who was upset and crying, on her lap.
Walters then fired the gun at Harry, who was 18 months old, believing it to be empty.
Related Internet Links
The BBC is not responsible for the content of external sites.