Bristol bedblocking review calls for 'tighter controls'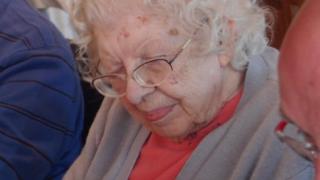 Patients fit for discharge who block hospital beds for more than a month are to be assigned a worker to deal with their case, a draft report reveals.
It comes after a dementia patient spent five months at Bristol Royal Infirmary (BRI) despite being fit to leave.
Iris Sibley, 89, had to stay because a community healthcare provider failed to find her a place in a nursing home.
The report on her case also calls for better communication between hospitals, care homes and other agencies.
BRI chief executive Robert Woolley, said he had called for a review because he wanted to know the hospital had done "everything we could do" to "make sure planning and communications were still happening".
"We're looking at a need to put in tighter controls.
"Any patients who's waited longer than four weeks after they're meant to have been discharged, we're going to have a named individual... who's responsible for them."
He said the draft results also recommended the introduction of a new appointment system for care homes, to identify in "real time" where places are available and where "bottlenecks" lie.
Teams from community services, social services and the hospital trust were now all together in the same office "working off the same information", Mr Woolley added.
The inquiry was launched after it came to light that Mrs Sibley had lived in a room at the BRI between August and December last year because no suitable care home place was found.
At the time the main healthcare providers - University Hospitals Bristol NHS Foundation Trust, South Gloucestershire CCG, which funds placements, and Bristol Community Health, which assesses funding and sources placements - said they were "extremely sorry" Mrs Sibley was kept in hospital longer than she needed to be.