British Syria fighter Josh Walker 'proud of actions'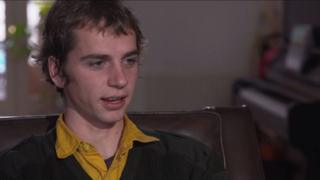 A British man who travelled to Syria to fight against the so-called Islamic State says he will "always be proud of what he did".
Josh Walker, from Bristol, fought in Syria for six months alongside Ryan Lock - who died in December.
He said attacks left him "terrified" but he "wouldn't have forgiven himself" if he had not gone.
Mr Walker was arrested when he arrived back at Gatwick Airport under the Terrorism Act. He was released on bail.
The Foreign Office advises against all travel to Syria and says "anyone who does travel to these areas, for whatever reason, is putting themselves in considerable danger".
It adds there is a "high threat from terrorism".
Mr Walker had travelled from Bristol to Istanbul, then onward to Iraq, before travelling by road across Iraq to Kurdish-held Northern Syria, to an area known locally as Rojava.
Mr Walker met up with the YPG, know as the People's Protection Units, a group of largely Kurdish men and women fighting on the frontline against IS.
During his time in Syria he lost "brave and intelligent" friends in bombing raids, he said.
"I hadn't gone out in a gung-ho manner but if I was under attack I was going to fight," he said.
He survived bombing raids and mortar attacks saying "all you can do is keep your head down and hope it stops".
After his agreed six-month stint he started the journey home where he wanted to tell his story, but while in Iraq heard the news his fellow British volunteer and good friend Ryan Lock was dead.
It was later reported Mr Lock, from Chichester, West Sussex, had turned the gun on himself to avoid capture.
Watch more on Mr Walker's experience on Inside Out (West), BBC One at 7.30pm, or afterwards via the BBC iPlayer.