Bristol pair jailed for inflicting 'horrendous injuries' on baby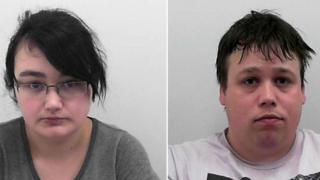 A couple who inflicted "horrendous injuries" on a 10-week-old baby have been jailed at Bristol Crown Court.
Rowan Spodris, 25, and David Andrew Toye, 32, of Lawrence Weston, both admitted a charge of child cruelty after the baby boy was found to have suffered 15 fractures to his body.
A health visitor raised concerns last year after spotting multiple injuries including a fractured skull and femur.
Spodris was sentenced to 11 months and Toye to 13 months imprisonment.
'Horrific case'
Det Con Stacey Matthews said medical examinations showed the injuries he suffered could not have been caused by accident.
"This is a horrific case in which a very young victim suffered some horrendous injuries all over his body," she said.
"While we cannot definitively say how these injuries were caused, or who caused them, both Spodris and Toye have admitted a charge of child cruelty which covers their criminal ill-treatment of this victim.
"Thankfully the child has made a full recovery from his injuries and is now safe and well."
She also praised the "vigilance" of the health worker who spotted the injuries and those who provided evidence to the prosecution's case.