Teens charged after items thrown at cars on M5 and M49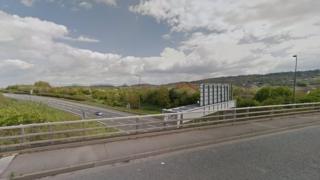 Two teenagers have been charged after objects were dropped on passing traffic from motorway bridges near Bristol.
Peter John Nugent, 18, and Jordan Alan Arendorf, 19, face nine counts of criminal damage and nine counts of causing danger to road users after items were dropped onto the M5 and M49.
The charges relate to incidents between April and June 2016, police said.
They are also charged with assault after a stone slab smashed through a windscreen and hit a driver last June.
The pair, both of Lawrence Weston, Bristol, are due to appear before Bristol Magistrates' Court on 4 May.