Police call handler sacked over 'up to you' killer advice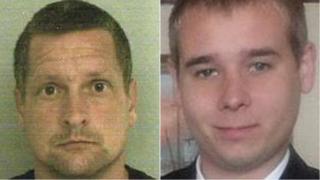 A police call handler who told a killer who was threatening to take the law into his own hands that it was "entirely up to you" has been sacked.
Derek Hancock spoke to Susan Akerman minutes before stabbing Robert Cox to death at a hostel in Bristol in 2013.
The police worker told Mr Cox's inquest that Hancock had given no indication that he would go on to do what he did.
Hancock pleaded guilty to manslaughter on the grounds of diminished responsibility in 2014.
Described as "deluded and psychotic" in court, Hancock had repeatedly made false allegations that Mr Cox and other residents at supported accommodation at Egerton Road had made sexual advances towards him.
At Mr Cox's inquest, a jury unanimously returned an unlawful killing verdict, citing issues over delays in diagnosing Hancock's mental health issues and interactions with police as contributing factors.
On the night of Mr Cox's death, Hancock called Avon and Somerset Police three times complaining about him.
In the third, three-minute conversation, he told handler Susan Akerman that the "law is not doing anything" and he threatened to "take the law into my own hands".
In response, Ms Akerman told him police would deal with it, but later said "…that's entirely up to you Derek".
Minutes later, Hancock fatally stabbed Mr Cox.
The BBC understands the police watchdog, the IPPC, concluded Ms Akerman could have a case to answer over her "advice" to Hancock, but that her actions did not contribute to Mr Cox's death.
They also concluded she may have given them false and misleading information in the subsequent investigation, which she denied.
Avon and Somerset Police said Ms Akerman was "dismissed following an internal disciplinary hearing" in 2014.
---
Excerpt from the call between Hancock and call handler Susan Akerman:
Hancock: "Well, I'm just going to have to deal with him myself."
Ms Akerman: "Ok, well if you take the law into your own hands..."
Hancock: "Well you're not doing the, the police are not taking the law into their own hands, because the police are not doing anything, and I would like a police officer to come round here and arrest him."
Ms Akerman: "It will be dealt with in a way we see fit and will be dealt with."
Hancock: "Yeah well that's, yeah you just said he's breaking the law, but I will take the law into my own hands because the law is not doing anything."
Ms Akerman: "Well that's entirely up to you Derek ok?"
Hancock: "Yeah I will do because your not because the police, because he's broken the law already by threatening behaviour"
Ms Akerman: "Ok"
---
At Mr Cox's inquest, Ms Akerman said she did not know Hancock had mental health issues and had no relevant training.
She also said she dealt with three or four similar calls a day from members of the public using similar language to Hancock.
A spokesman for the force said: "This matter has been the subject of a Serious Case Review, an Independent Police Complaints Commission investigation and Coronial proceedings which we've fully participated in.
"We're committed to ensuring relevant lessons are captured and implemented."
In December 2014, Hancock was sentenced to life imprisonment and was ordered to serve a minimum tariff of four years and nine months in accordance with the mental health act.