Bristol City Council staff braced for more cuts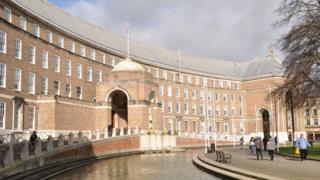 A further 828 Bristol Council jobs need to be cut this year to balance the books, unions have claimed.
Elected mayor Marvin Rees said in September that 1,000 posts had to go, but it has emerged that one third of the cuts have been made so far.
Gavin Brooks, from Unison, said the union could not see any areas where cuts can be made and services maintained.
Bristol City Council said it remained committed to minimising redundancies.
In October 2016, Mr Rees warned cuts of £92m would have to be made to Bristol City Council's budget by 2022, with further savings of £33m before the end of the the 2016-17 financial year.
'Massive pressure'
"In most cases we have managed to achieve savings by non-replacement of vacant roles and voluntary redundancies, rather than having to consider compulsory measures," a council spokesman said.
"A significant step in minimising redundancies will be through working on service re-design - which is under way."
Mr Brooks added if the redundancies go through, the council would have lost a third of its workforce in five years.
"That puts massive pressure on those left doing the jobs and they know they can't deliver the level of service they really want to.
"They're committed to helping the people of Bristol... as you cut these services it puts more pressure on other services be those council or NHS."