Skeletons unearthed across Bristol go on show in the city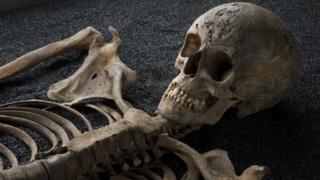 Six skeletons, including a Bronze Age man with a spear-head lodged in his spine and a decapitated Roman woman, have gone on display in Bristol.
The remains, including the skeletons of malnourished children, were discovered in Clifton, Filton, Mangotsfield, Tormarton and the city centre.
Numerous burial sites have been found in the city over the years at medieval monasteries, a hospital and a convent.
The exhibition will run at the M Shed until 3 September.
"Each skeleton has its own tale to tell, and collectively they uncover 2,000 years of history, increasing our understanding of how people once lived, and providing insights into the health, diet, diseases and lifestyles of the deceased," said Laura Pye, from Bristol City Council.
"It's a totally unique insight into Bristol's history."
The individuals on display include a young Bronze Age man whose remains show multiple weapon injuries which led to his violent death.
The skeletons also include a medieval middle-aged man who suffered from extensive osteoarthritis and sinusitis, and a Romano-British woman with injuries that suggest she was decapitated.
The exhibition is being put on by the Wellcome Collection and the Museum of London.