Man arrested after bolt cutter bike theft filmed in Bristol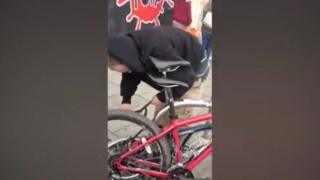 A man has been arrested on suspicion of theft after a locked bike was filmed being stolen from a rack in Bristol.
The alleged theft, which involved bolt cutters, was filmed by an anonymous man and posted on Facebook on Monday.
The video has been watched by more than half a million people, and the man who filmed it said he was shocked at how brazen the apparent theft was.
Avon and Somerset Police confirmed a 47-year-old man has been arrested in connection with the incident.