Bristol's St Pauls carnival to return in 2018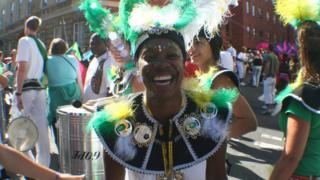 An African Caribbean carnival dating back to the 1960s is to return next summer after a two-year absence.
Bristol's St Pauls Carnival is set for a July 2018 revival, organisers said.
The event has not been staged since 2015 after funding was withdrawn by Bristol City Council and Arts Council England in the same year.
The councils and the new St Pauls Carnival Community Interest Company (CIC) said they had made a "sustainable plan for the festival going forward".
'Bring sunshine'
A CIC spokesman said they wanted to "deliver a carnival which returns to its roots and does justice to [its] rich history".
He added: "It has been a long time in the making but we are so pleased to be announcing the return of St Pauls Carnival."
Councillor Carole Johnson, who is also director of the CIC, said they wanted to encourage people "to come along to our planning event in St Pauls to meet the board and share ideas".
She added: "St Pauls Carnival was created to bring sunshine to the streets of Bristol and 50 years later it is as much-loved as ever."
The annual carnival was designed to be a celebration of the city's African-Caribbean culture.
It was run by St Pauls Afrikan Caribbean Carnival (SPACC) but in recent years it has been cancelled three times.