South Gloucestershire general election: UKIP confirms no MP hopefuls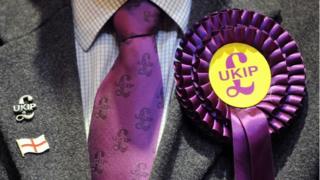 UKIP has confirmed it will not field any candidates across south Gloucestershire in the snap election.
The party came third in all but two of the 11 constituencies in Bristol and south Gloucestershire in 2015.
The decision may boost the Conservative vote in marginal seats like the Thornbury and Yate constituency.
Conservative candidate Luke Hall is defending a 1,500 majority, where UKIP won more than 5,000 votes in the previous election.
UKIP's Russ Martin stood in the 2015 election for Thornbury and Yate. He was also re-elected as the prospect ive parliamentary candidate.
"This is tactical strategic decision, I'm looking at the bigger picture for Brexit and I don't want to jeopardise the outcome," he said.
Thornbury and Yate was held by the Liberal Democrat pensions minister Steve Webb before he lost his seat to the Conservatives in 2015.
Lib Dem candidate Claire Young said: "Two years of Conservative government has shown people what we actually did in coalition because they've seen, without us as a restraining influence, what they are doing."
'Complete collapse'
Conservative candidate Luke Hall said: "This is a vital seat for the Conservatives nationally.
"There has never been a Conservative majority government without this seat."
Other candidates standing in Thornbury and Yate are Green Party candidate Iain Hamilton and Brian Peter Mead for Labour.
Speaking of UKIP's decision, Mr Hamilton said it was "not surprising" as UKIP "completely collapsed".
He added: "I know a lot of people say where will UKIP's votes go, but there are lot of people who don't like either of the main parties, and they're happy I'm standing, as it gives them other options."
Mr Mead said: "I'm standing to give people the opportunity to vote in favour of Labour policies of investment in public services run for the many and not the few and against the austerity agenda."