Burglars steal £500k wishing well statue from ex-chapel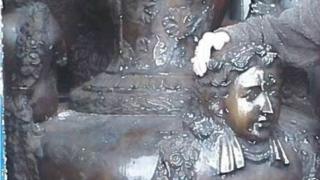 More than half a million pounds worth of bronze artwork has been stolen from a former chapel.
A wishing well statue worth £500,000 was taken from the South Gloucestershire property between 7 and 9 May.
Two others of a horse and a rider, valued at about £25,000 each, were also taken.
Avon and Somerset Police said the break-in at Bath Road, Cold Ashton, was "targeted" and "well-planned".
PC Simon McFall added: "It would have taken a number of people to carry out this crime as the statues weigh a significant amount and would have required several people to lift them.
"They are also of a considerable size and it is more than likely that a van or other large vehicle was used to transport them."
Anyone with information is urged to contact the force.