Ex-police boss Gary Davies denies sexual touching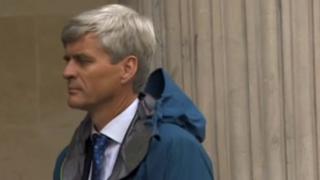 An ex-police boss pushed his groin against a woman on a busy train, a court has heard.
She told Bristol Crown Court how Gary Davies walked past several passengers to get to her in a busy carriage before rubbing up against her.
His defence team said the touching, on a train between Taunton and Bristol, happened due to overcrowded carriages.
Mr Davies, 54, of Shoreditch Road, Taunton, denies five counts of sexual assault against three women.
A former chief superintendent, Mr Davies left Avon and Somerset force in 2012. He then started to work for the council, leading a team that supports troubled families in the city.
The offences are alleged to have taken place between December 2015 and May 2016.
The court heard the allegations came to light after the witness, who cannot be identified for legal reasons, took photographs of Mr Davies close to another woman and informed British Transport Police.
She also told the court he touched her thigh while she was sitting down.
The trial continues.