Plan to remove First Bristol's bus service restrictions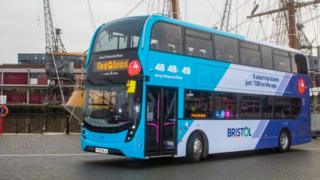 Restrictions on bus operator First Bristol, put in place more than 25 years ago, could be removed.
The Competition and Markets Authority (CMA) applied them in 1989, after fears two merged firms, taken over by FirstGroup in 1996, could have too strong a bargaining position with the council.
First Bristol said it welcomed the intention to remove the restrictions.
The CMA said stakeholders had until 30 June to comment.
The restrictions were implemented following the 1989 merger of two local bus companies, Badgerline and Midland Red West.
Excess profit
The Monopolies and Mergers Commission (MMC) at the time ruled the merger would remove competition for bus services contracted by the former Avon County Council.
Restrictions imposed by the CMA had included a cap on the amount they could receive from the local authority for running a tendered service, and a requirement to return any excess profit from such services.
The CMA review, which started in January, found FirstGroup's "share of tendered bus services in the region has reduced significantly since the MMC report".
A CMA spokesperson said: "The CMA engaged with local stakeholders and no party that we spoke to argued that the undertakings were having a beneficial effect and should be retained."
A First Bristol spokesman said: "First Bristol welcomes the publication of a provisional decision by the Competition and Markets Authority to release the company from undertakings relating to a merger dating back more than 25 years ago.
"Neither the original undertakings themselves nor the consequences of this decision impact the way we continue to invest in bus services in Bristol and the wider West of England region."