Flood defences plan for Severn Estuary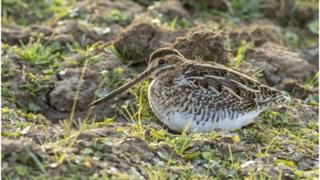 Flood defences will be built along the Severn Estuary in £80m plans to protect against climate change and create new wildlife habitats.
The 10.5mile (17km) stretch runs from the River Avon and Avonmouth Docks to Aust Cliff, near the old Severn bridge.
Bristol Mayor Marvin Rees said: "We need to take notice of climate change now and face up to the impact it could have on us in the future."
By tackling flood risk, it is hoped more firms will invest in the area.
The flood defence project will support the growth of the Avonmouth and Severnside Enterprise Area, which is one of six major employment zones promoted by the West of England Local Enterprise Partnership (LEP).
The LEP says it has the potential to create 12,000 jobs by 2026 if it is successfully developed as it is close to Bristol and the major motorways and ports.
Higher tides
The project is being led by South Gloucestershire Council, Bristol City Council and the Environment Agency.
South Gloucestershire Council leader and cabinet member for economic development, Matthew Riddle said: "This scheme of work is needed to protect homes and businesses for the next 60 years."
The flood defence plans have opened for consultation and are based on building upon existing structures so they can protect against higher tides.
Wetland habitats around Hallen Marsh and Northwich will be expanded as part of the plans.
The habitats are home to important birdlife such as the Common Snipe, Gadwell and Lapwing and other species.
Construction work is expected to begin in stages from next year.