Bristol's Prince Street Bridge reopens to traffic after two years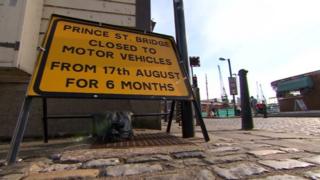 A busy bridge in the centre of Bristol will finally reopen to traffic, nearly two years after it was closed for repairs.
The Grade II-listed Prince Street Bridge was shut after it was found to have become "heavily corroded".
It was reopened to pedestrians and cyclists in May and southbound traffic will be able to use it from Monday.
A review of allowing traffic to use the 138-year-old bridge will take place in summer 2018.
Motorists initially faced six months of delays in August 2015 when it was announced "complicated maintenance" was needed.
A 3m wide temporary footbridge for cyclists and pedestrians was built during the works.
But the project was hit by delays and a £1.2m bill, which was three times as much as was expected.
A report to the council in February 2016 said the "full extent of the corrosion in the previously hidden internal structure" was revealed in December and was "substantially worse than originally thought".
The bridge's closure, along with works to build the £216m MetroBus public transport system, were blamed for much of the increased traffic jams faced by motorists over the last two years.
'Right balance'
Bristol City Council transport boss Peter Mann said the bridge is "an important piece of our transport infrastructure".
"We are confident we have come up with the right balance which considers current and forthcoming roadworks and their impact on our network, in particular on safety, congestion and overall performance," he said.
He added the reopening would allow major works at the nearby Temple Gate to be completed.
There were fears on Thursday that the grand reopening would be delayed again when the bridge stuck open during final tests, after a hydraulic hose broke.
An emergency passenger ferry took pedestrians across the Floating Harbour until the bridge was repaired, again, later that day.