Bristol's Colston Hall moves show due to 'structural issue'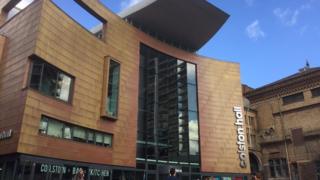 A show at a Bristol music venue has been moved to another venue after part of the main hall's ceiling "fell off".
The Gurt Lush Choir was due to perform at Colston Hall on Saturday night but has now had to find another site.
A spokesman for the hall said the show could "no longer take place" due to an "unexpected minor structural issue".
Choir member Nicola Harwin, said they were told a piece of the ceiling had "fallen off" and the hall had "concerns" about possible asbestos.
The 200 strong choir, said it had sold "500 plus" tickets for its performance at the Colston Hall and had been "completely gutted" when it got the news on Friday night.
Ms Harwin. said: "Colston Hall are saying they can't get anybody from the council to check it until Monday.
"It may well be perfectly safe but they can't take the risk."
In a statement on its website, the venue said there had been some "unexpected minor structural issue in the main hall" but Gurt Lush Choir's performance would be going ahead at the Wills Memorial Building instead.
'Performances still scheduled'
It added: "Performances taking place week commencing Monday 10 July are still scheduled to go ahead as planned until further notice."
A spokesman for Bristol City Council said it was "aware" of the issue and would be working with the hall to "get the damage fixed as quickly as possible".
Colston Hall is due to close for a £49m revamp at the end of the year and reopen in 2020.
Over the years, some of the world's biggest music stars have performed at Colston Hall, including The Beatles, David Bowie, Ella Fitzgerald, Louis Armstrong and Bob Dylan.