Burst water main affects thousands of homes in Bristol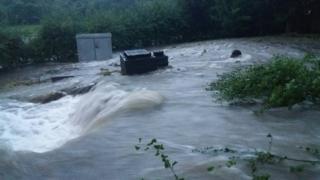 Thousands of homes in the Bristol area have spent much of the day without water due to a burst main.
Some 13,000 homes are still affected by the burst, which happened on Tuesday night in Willsbridge.
At its peak, 35,000 homes were affected. Thirteen schools closed and some businesses had to shut while repair work got under way.
Bottled water and bowsers have been provided. Bristol Water said it expects all supplies to be restored overnight.
Latest on the burst water main and other stories from the West.
Water supply has been restored to Whitchurch, Brislington and Stockwood and some 6,000 residents in Hanham, Longwell Green and Bitton are also getting running water again.
Schools in Longwell Green, Hanham, Keynsham, Willsbridge and Whitchurch were closed for the day.
A further five schools have confirmed they will remain closed on Thursday as the water tanks may not be able to cope with demand.
The affected schools are Wellsway School in Keynsham, St John's School, Chandag Infants, Chandag Juniors and the IKB Academy.
'Catastrophic failure'
Bristol Water set up a bowser in Longwell Green following complaints of the lack of water in the area and nearby Hanham.
Jan Meager said: "There is nothing in Hanham, Longwell Green and there is no other ones around Bristol - except the three in Keynsham.
"Nobody is helping us and I'm disabled and there's nothing in the area.
"They can put a bowser in Hanham - they've closed the school and they know there's a problem."
Three were also set up at Ashton Way and Waitrose car park.
Some cafes and shops in Keynsham were shut or stopped serving hot drinks due to the lack of water.
Mr Newby said there had been a "catastrophic failure on a key part of our network".
"We've got an incredibly reliable network most of the time, but when you get failures like this it does take a while to re-engineer the network to bring that supply back to people," he added .
The repair has been made more complicated as the site, near a pumping station, needed to be cleared, then excavated.
Mr Newby said: "There's a lot of pressure in this part of the network.
"Luckily the water came into a field, it's not good for the owner of the field but it is better than if it happened in an urban area."
A tree which fell overnight during a storm is not though to be the cause of the burst, the firm said.