Bristol care workers recruitment campaign launched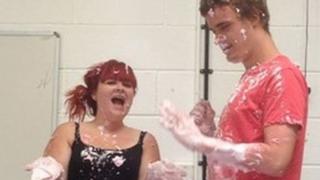 A campaign to encourage more people to work in the care sector has been launched in Bristol.
The council says it wants to "raise the profile of care in a drive to recruit the right people" and is working with other regional authorities.
It said care providers "can experience difficulties in recruiting".
The union Unison said it "welcomed any initiative to increase care work status" but said pay was "often minimum wage" and "sometimes less".
'Higher pay in Tesco'
Joanne Kaye, from Unison, said the campaign was "right to emphasise the complex skills involved and the huge emotional rewards of care work".
But she said cuts meant some visit times had been "slashed to 15 minutes" which could leave carers "in impossible positions and often working unpaid time".
"When pay levels in Tesco are higher, for less demanding work, we should question our priorities as an economy," she said.
Beth Hemmings, 25, supports adults with learning difficulties, mental health needs and autism.
'Ignore stereotypes'
Ms Hemmings said: "Day to day I spend time reviewing our policies and person-centred plans to make sure that the people the plans are written for can understand them.
"If I could give one piece of advice to others considering a career in care, it'd be to ignore the stereotypes. The best part of my job is seeing the positive impact that I am having."
Councillor Helen Holland, from Bristol City Council, said she hoped the campaign would "inspire more people to consider a career in care".
She said: "Care can provide all kinds of flexible work, and if we work more closely together, we can make the most of training opportunities.
"It really is time that people working in the care sector got the recognition they deserve for the huge contribution they make to our society."