Bristol Cathedral gets mystery donor gift for rose window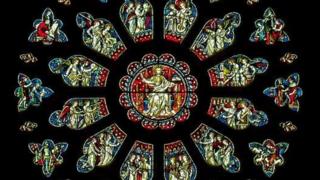 An anonymous donor has given £125,000 to Bristol Cathedral to restore a window damaged by a wartime bomb.
The cathedral's rose window was created in 1877 but suffered a number of cracks when a blast destroyed the north side nave windows during World War Two.
The cathedral said the gift was the "largest philanthropic gift" it had received since the rebuilding of the nave in the 1860s.
Work on the window is due to begin in August and will last about 12 weeks.
The rose window, which depicts Christ surrounded by angels playing music, was installed when the cathedral's new nave was built in 1877.
Since then, the window's glass has bowed and flexed, supporting bars have rusted, and traffic pollution has left the glass "dirty and in need of cleaning".
The Very Rev Dr David Hoyle, Dean of Bristol, said he was "delighted" the window was going to be made "safe and secure".
"It is probably the clergy who know the Rose Window best. We are the people who see it, from the altar, every Sunday morning," he said.
"We are so very grateful to the extraordinary generosity of our anonymous benefactor."