Yate unit to close 'once waiting times hit four hours'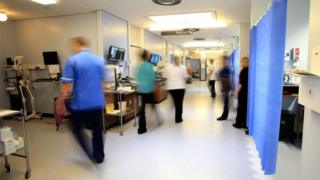 A two-month trial has begun at a minor injuries unit which will see it close once waiting times hit four hours.
The Yate unit, run by Sirona Care and Health, said patients preferred not to wait four hours but get help elsewhere.
Director of nursing operation, Jenny Theed, said: "They're saying they would rather not wait and by doing this we think we'll provide a better service."
She added that a recent pilot showed the unit re-opened within two hours once nurses had caught up with demand.
"We do on occasion get people waiting for up to four hours and patients are unhappy with this so we're looking at different ways to manage that high demand.
"We've looked at other units in the South West and this is a way in which they manage demand," said Ms Theed.
Sirona also said around 50 people were seen every weekday by its four-strong team of nurses but some days this peaked at about 80 patients.
Some of the people using the service came in with paper cuts, verrucas or had run out of prescribed medication. All of these problems could have been dealt with by a local pharmacy or GP, the organisation added.
South Gloucestershire closed its other minor injuries unit in Cossham despite a long campaign by residents and the local MP.
Instead minor injuries services are now offered within GP surgeries in South Gloucestershire.
The Yate unit recently received the top rating of outstanding by the health watchdog, the Care Quality Commission.