Father of dead Somerset baby quizzed over harassment complaints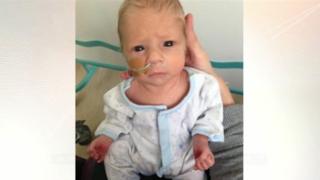 The father of a premature baby who died aged eight weeks may face prosecution after doctors complained of harassment.
Ben Condon died in April 2015 after developing a respiratory illness. His parents say he may have survived if antibiotics had been given earlier.
His father Allyn Condon was questioned by police after handing out leaflets claiming there has been a cover up by Bristol Children's Hospital.
The hospital says it has apologised and is sorry the parents are dissatisfied.
Mr Condon, a former British Olympic sprinter, has been interviewed by Avon and Somerset Police after complaints of harassment were made by two doctors at the hospital who were among several named in the leaflet.
In an email to him, police said a decision would be made "around both offences with regards to whether you go to court".
Mr Condon has started an online petition calling for an investigation into Ben's death and has been handing out the leaflets outside the hospital.
He said: "I don't believe for one second that we've done anything to the individuals that constitutes harassment.
"We're just trying to make the public aware of Ben's case."
Ben was born at 29 weeks and spent seven weeks in intensive care before going home to Weston-super-Mare with his parents.
He began coughing and sneezing two days later, was taken to Weston General Hospital and then transferred to Bristol after becoming lifeless and struggling to breathe.
Ben was not prescribed antibiotics until just over an hour before he died, after suffering two cardiac arrests.
A spokesman for the hospital said: "We have tried hard to give comprehensive answers to Ben's parents and are truly sorry that Mr and Mrs Condon remain so severely dissatisfied with our responses.
"Over a year ago we apologised unreservedly for missing a number of significant opportunities to engage proactively with them and be more open and to understand the seriousness of their allegations.
"We repeat that apology today.
"At the same time we must support the staff who provide that care, and in particular those staff who have felt it necessary to take personal steps to protect themselves in this very difficult situation."
Last year an inquest into the baby's death returned a narrative conclusion saying Ben died from an inflammation of his lungs caused by a virus.