Father of meningitis death girl offers support to George Zographou's family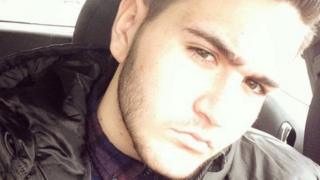 The father of a girl who died from meningitis is offering support to the family of a man who died after falling ill with the same strain.
George Zographou, 18, from Bristol, fell ill at the Boardmasters Surf and Music Festival in Newquay on Friday.
He was a student at St Brendan's Sixth Form College, as was 16-year-old Isabel Gentry who died from the same disease last year.
Isabel's father Paul has sent an open letter to Mr Zographou's family.
In it he expressed his "deepest sympathy and heartfelt condolences" to the family at "this dreadful time".
Mr Gentry described meningitis as a "rapid and merciless disease" and said "there are not enough words to describe the heartache and loss" it causes.
"You will all have different ways to cope with your loss, but please remember that you are not alone," he said.
Mr Gentry urged the family to contact him if they need to talk about their loss, and also recommended the support charity, Meningitis Now.
Public Health England (PHE) is urging young people to get vaccinated against meningococcal infection and said: "The MenACWY vaccine protects against four strains of meningococcal disease.
"MenW is one of the most aggressive and life-threatening forms of meningococcal disease and can rapidly become fatal.
"Many survivors are left with life changing disabilities, including brain damage and loss of limbs."
Mr Gentry added: "There are more than 300 deaths from the bacterial form of the disease each year. Too many people die, when there is a vaccine available."
Following Mr Zographou's death, St Brendan's College set up a welfare room for students who are upset and a representative from PHE has attended to answer any concerns.
PHE said it did not believe that the two confirmed cases of meningococcal infection at the school are related.