New £80k vehicle donated to Irish mountain rescue charity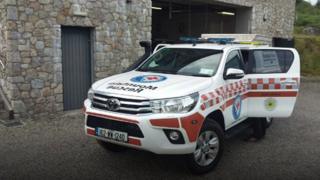 The parents of a school boy who died in a light aircraft crash in 2008 have donated £50,000 towards a vehicle for an Irish mountain rescue charity.
Sharif Booz, his wife Margaret, son Ayman, and his schoolmate Charlie Froud died in the crash during poor weather in the Wicklow Mountains in Ireland.
The Glen of Imaal Mountain Rescue Team helped recover their bodies.
After the accident Charlie's parents set up a trust to thank them which so far has raised more than £180,000.
Ann Fitzpatrick, from the Glen of Imaal Mountain Rescue Team, said it only received a "quite tiny" income from the Irish government.
"Everything else we do has to be fundraised ourselves so that takes away from the time we can devote to train and rescue," she said.
The multi-terrain vehicle, Glen Charlie, was handed over in a short ceremony, near Almondsbury, South Gloucestershire, where all four victims had lived.