Bristol stroke survivor wins fight to be re-housed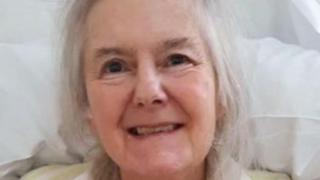 A woman who pleaded with a council not to move her to a nursing home after becoming disabled by a severe stroke has won her campaign to be re-housed.
Janet Gunningham, 61, was told her Bristol council house was not suitable to be adapted for wheelchair use.
Mrs Gunningham and her husband Alan will now be re-homed in an already-converted property nearby.
Bristol City Council said it would "soon be ready after a little work" and the family could be "together again".
Mrs Gunningham, who is still recovering in hospital, collapsed on 28 December after suffering a stroke.
At the end of January, doctors said that her life support was to be removed.
But in what was described as a "miracle" by her family, Mrs Gunningham started breathing by herself.
Bristol City Council said adapting the current family home would "take extensive cost and time for completion" and had initially suggested a nursing home until more suitable accommodation could be found.
Son Chris Gunningham said when his father told him a house had become available "it felt like the weight of the world had been lifted off my shoulders".
He added: "Sending Mum to a nursing home would have been the end of Mum. Just to know that Mum's going to be home where she belongs - it's just brilliant."
Husband Alan said it had been "quite an emotional period" and despite having to move from Hartcliffe, he was pleased a suitable property had been found in nearby Ashton Vale.
"I've lived in Hartcliffe for 61 years and once again when something goes wrong everybody sticks together," he said.
"The people of Hartcliffe have been magnificent."
Almost £3,000 has been raised to help the family and this will go towards Mrs Gunningham's extra needs.
The council said: "We appreciate their patience and understanding whilst we've worked with them to find a solution to their housing needs."