Southmead disorder: Police called to 'nightmare' area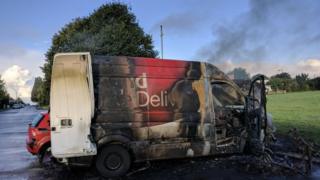 Vehicles were set on fire, property damaged and police called in when trouble broke out in part of Bristol.
The disorder came amid a police operation to issue dispersal notices in Southmead following reports of anti-social behaviour.
Nine notices were issued on Wednesday banning people from returning to the area for 48 hours.
Residents said Southmead was a "nightmare" and it "kicks off every night".
More on the Southmead situation and other news from the west of England.
Avon and Somerset Police used riot officers and mounted police during the disorder.
There was one arrest for breach of a dispersal notice, police said on Wednesday.
The force is yet to make any comment about the disturbance despite numerous approaches from the BBC.
Police and Crime Commissioner Sue Mountstevens said she met with local councillors and the Labour MP for Bristol North West, Darren Jones, earlier.
She said she felt "reassured" the force is "dealing with these matters as a priority".
'Disaster on the green'
Councillor Brenda Massey said the area had had a summer where there had been a lot of trouble with mini-motorbikes, on-street drinking and various other problems.
"It's just culminated with this disaster on the green," the Labour member said.
"The police station in Southmead has closed and are operating out of a temporary centre at the Greenway [community centre]... and that makes it very difficult for them.
"It's harder for the police to be here in time to stop things so having fewer bodies on the ground allow more opportunity for this to happen."
Residents said the situation in Southmead was escalating.
'Smoking heroin'
One woman, who did not want to be named, said: "I won't even come out after 4pm and the kids can't play round here anymore.
"My partner used to live here years ago and he says [Southmead] was a completely different place then and it was safe to walk the streets.
"Now you're not safe doing anything.
"I've had a cars parked on my drive and they've been smoking heroin on my drive. It's getting quite terrible around here."
Another man said: "Something kicks off every night: burnt cars, burnt vans, stolen cars, motorbikes, anything.
"It's got pretty bad up here, there always seems to be trouble around this area.
"It's a nightmare around here lately. I'm seriously thinking of moving."
On its anti-social behaviour operation, the force said it had been set up as "preventative action... to provide community reassurance for local people".
"We have issued nine Section 35 notices, requiring individuals to leave the area and not return within a 48-hour period. This was effective from 4.20pm this [Wednesday] evening," the force said.
"One arrest has been made for a breach of the order."