Southmead disorder: Eight-year-olds took part in trouble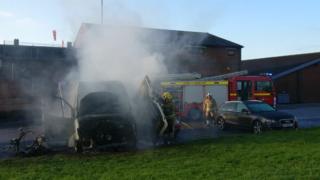 Children as young as eight took part in disorder on a Bristol estate, police have said.
Vehicles were set on fire, property damaged and mounted police called in when trouble broke out in Southmead on Wednesday evening.
Supt Andy Bennett said: "It's really shocking. There's some very, very young children engaging in this activity."
The disorder came amid a police operation to issue dispersal notices after reports of anti-social behaviour.
Supt Bennett, from Avon and Somerset Police, said local people had reported a "build-up over the last six months" but he thought it had "probably come to a head in the school holidays and during August".
He said: "Although there's a big age range, there's a big cohort between eight years old and 16 years old and they are particularly difficult to deal with - although I think the most threatening ones are probably the slightly older end of the scale."
'Smeared with faeces'
He said it involved a "small minority of families" and police relied on "the parents to support us in any activity or in restricting some of their behaviour".
"But we don't get their cooperation and we do need them to know where their young people are, particularly late at night," he said.
He added the neighbourhood policing team was doing "loads of work" but that it "wasn't enough".
Supt Bennett said officers went to the estate on Thursday evening to "win back the hearts and minds of the community to show we're taking this matter seriously".
However, he said when they returned to one of their vehicles, they found it had been "smeared with faeces, which is clearly really disappointing."
"But on the whole last night was very peaceful and this policing operation will continue until some of the other aspects of our investigation and anti-social behaviour legislation start to kick into place," he said.
Nine dispersal notices were issued on Wednesday banning people from returning to the area for 48 hours.