Bristol flats evacuated after partial collapse of first floor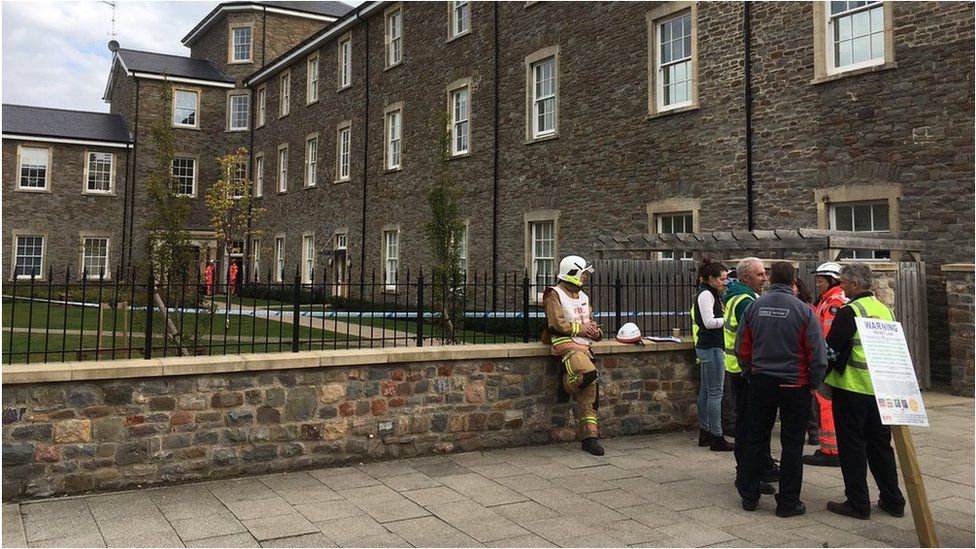 About 40 residents have been evacuated from a block of flats in Bristol overnight due after the partial collapse of the first floor.
Firefighters were called to the scene at 03:00 BST. They confirmed part of the floor of a first floor flat fell into a bike storage area below.
Residents heard a "large crack" on the top floor of the block and the floor dropped by one foot (approx 30cm).
Bristol City Council says a community centre has been opened for residents.
Avon Fire and Rescue said that overnight residents heard a bang and "felt the floor drop beneath them".
A fire spokesman said the floor of the first floor flat had partially collapsed into the communal bike storage area below on the ground floor and there was only one flat on the first floor.
He added that fire crews are on the scene, but they were now scaling down the operation and were expecting to hand the property back to the property managers who will decide on the next step to take.
A council spokesman said: "We have opened Horfield Baptist Church as a community place of safety for residents in need of shelter.
"We have a network of community places of safety across the city in case of incidents like this and we'd like to thank the volunteers who run them and provide vital support."
Resident, Dave Thomas, was woken up at 04:00 BST by fire crews moving people out of the building.
"They were professional and put our minds at rest.
"The joy of living in these old buildings is the character and the fact they've been recycled for modern use."
The building was formerly an orphanage and then converted into a four-storey block of flats.
Related Internet Links
The BBC is not responsible for the content of external sites.