Melissa Mathieson murder: Bristol care home killing was preventable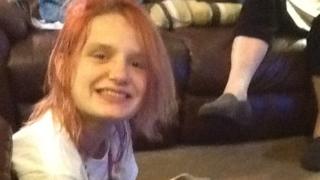 The murder of a vulnerable teenager who was stalked and later strangled to death could have been prevented, a report has found.
In October 2014, Jason Conroy murdered Melissa Mathieson, 18, at a Bristol home providing special care for adults.
A serious case review into her death found care home staff had not acted on recommendations in a forensic report.
The report had warned Conroy had "a high risk of future physical and sexually harmful behaviour".
The serious case review, published by Bristol Safeguarding Adults Board, said a failure to act on previous warnings of Conroy's behaviour had cost Miss Mathieson her life.
Chair of the board, Louise Lawton said: "Melissa's death could have been prevented if practitioners, staff, organisations had adhered to the processes that were in place.
"That didn't always happen and there were a number of missed opportunities."
Miss Mathieson was killed at Alexandra House, a residential care home which specialises in caring for adults with autism or Asperger's Syndrome. Conroy, from Guernsey, was jailed for life for her murder in October 2015.
Her father James Mathieson said: "I believe that both Melissa and Jason Conroy were badly let down. They were both failed by the services that were supposed to protect them."
Key findings of the serious case review included:
A forensic report, overlooked by Alexandra House, detailed Conroy's previous history and warned staff should be "aware of his victim profile - young petite women who he can easily overpower" and that he "goes to some lengths to identify potential victims including taking an interest in staff rotas".
Conroy attempted to kill his mother on two occasions.
She had tried to warn care staff about his behaviour and after one attack told staff Conroy "wanted to kill her and have sex with her".
In 2007, while at a residential school, Conroy became fixated on a young female member of staff and tried to strangle her with a dressing gown belt. "It is stated that he had reportedly said that he wanted to kill her and have sex with her dead body," the report said.
In March 2013, he sexually assaulted then tried to strangle a teacher at a residential school.
In a subsequent investigation, Conroy "explained that he had wanted to have sex with her but knew this was against the rules. He had therefore tried to kill her because she would no longer be a member of staff and so he could have sex with her without breaking the rules".
Concern of his placement were also raised by the Adult Disability Panel at Conroy's home authority, as no consultant care was provided.
Conroy, who had been in residential placements since the age of seven, was moved to Alexandra House as his behaviour was too challenging for a residential school to deal with.
However, the review concluded that the initial assessment of him made by the care home was too positive and did not take seriously the warnings of the forensic assessment.
Appropriate levels of supervision were not put in place which ultimately led to him being allowed to murder Melissa, the report found.
The March 2013 attack on the teacher was reported to police in September that year but a West Mercia Police officer mistakenly advised the residential school that it was too late to report it as a crime.
A subsequent Independent Police Complaints Commission report found the assault in Shropshire should have been recorded as a crime.
IPCC Commissioner Derrick Campbell said: "It is impossible to know what impact, if any, recording the assault in Shropshire as a crime would have had on future events."
Another assault in May 2009, where Conroy tried to strangle a worker at another residential home in Devon, was correctly recorded by police.
Miss Mathieson's family, from Windsor, said they did not want her placed in Bristol, describing her as "vulnerable" and not "streetwise". She had been diagnosed with ADHD and autism spectrum disorder.
Mr Mathieson said: "Even though the Safeguarding Adults Board's investigation rightly found that Melissa's death could have been predicted and prevented, as a family, we are still left with so many questions about how this could have ever happened."
---
Analysis
By Michael Buchanan, Social Affairs Correspondent
At the heart of this tragic case sits a question that Melissa's father continues to grapple with - how was a teenager from the Channel Islands allowed to kill a young woman from Berkshire in a care home in Bristol?
The central failures to take seriously Jason Conroy's previous behaviour, which led to the murder, are laid bare in this review.
What remains, however, is the bigger failure that has been exposed: Melissa's family being ignored and made to feel useless by care agencies and the clear sense that Jason Conroy was moved from pillar to post throughout his young life - a commodity in a system that repeatedly fails people with learning disabilities.
The lives wasted by the appalling failures in this case are a further indictment of a system that constantly promises to improve but, too often, sadly doesn't.
---
A spokesman for Alexandra Homes said: "We are truly sorry for the numerous failures that were made and sincerely regret the mistakes and the shortcomings that the review has identified. Quite simply, we failed in our duty to Melissa and her family.
"The offender should have been properly assessed and supervised, and this did not happen, with tragic consequences. It was clearly wrong for a manager to describe our previous processes as 'robust'."
It added since then it had taken appropriate action and in May 2016 the care home watchdog rated the home as 'good' in all areas.
The States of Guernsey, which was responsible for putting Conroy into care, said since the tragedy it had "reviewed and strengthened its processes".