Jeffrey Barry guilty of 'savage' stab murder in Bristol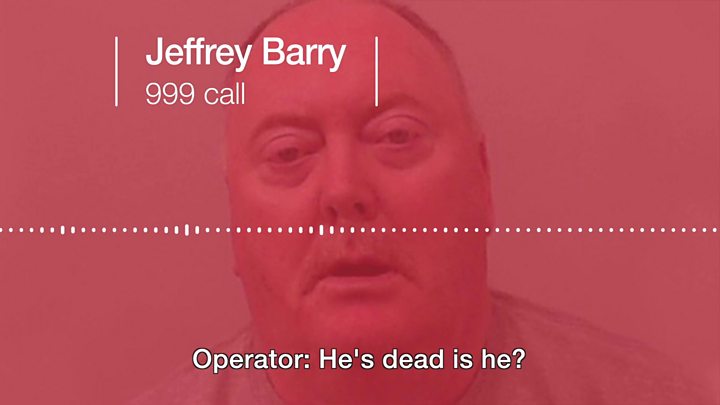 A man has been found guilty of murdering his neighbour in a "savage and sustained" knife attack that lasted more than 40 minutes.
Jeffrey Barry, who has paranoid schizophrenia, falsely claimed victim Kamil Ahmad was a rapist and terrorist.
The brutal attack in Bristol in July 2016 ended with Barry slicing off the Kurdish refugee's penis.
Barry, 56, had denied murder but admitted manslaughter by diminished responsibility at Bristol Crown Court.
During the trial, the jury was told he was racist towards Iraqi-born Mr Ahmad and had previously assaulted him.
A post-mortem examination found injuries to Mr Ahmad included 25 stab wounds to his face and eyes.
Intention to kill
Barry, who has a long history of mental health problems, attacked Mr Ahmad hours after being released from hospital against the advice of psychiatrists. A mental health tribunal ruled that he should be discharged.
In the lead-up to the murder, Barry, of Wells Road, had been sectioned, treated at a psychiatric intensive care unit, transferred to an open ward and later released with medication after he promised not to drink or take drugs.
During the trial, the jury was told he had written notes stating his intention to kill people in the shared supported housing unit where the pair lived.
Weeks before the killing at the victim's flat, Barry told police during a phone call he thought Mr Ahmad was a rapist, a paedophile and a terrorist in Iraq.
Speaking outside court, Mr Ahmad's family described the Kurdish refugee as "a deeply loved member of our family".
In a statement, they added: "We have one question: Why was Kamil not protected by the authorities from this violent racist?
"We call on all the authorities to give an honest answer to this question without delay, so that Kamil can rest in peace and so that other vulnerable people are protected."
Lawyer Tony Murphy, who is representing Mr Ahmad's family, said the victim was known to be "very vulnerable and particularly vulnerable and at risk from Barry".
He said there was "documented history" of racist abuse, violence and threats to kill him.
"In those circumstances, the apparent and total absence of a plan to protect Kamil upon Barry's discharge is extremely concerning.
"Had there been a plan, Kamil would be alive today."
'Tragic and brutal'
Avon and Wiltshire Mental Health Partnership NHS Trust described the death as "tragic and brutal".
It said the trust was "committed to close cooperation with all agencies in an effort to prevent such an event happening in the future".
"We have reviewed and strengthened our ways of working with other service providers, including the police, to improve our sharing of clinical and additional relevant information," a spokesman added.
Alex Raikes, from the campaign group Stand Against Racism and Inequality (Sari), said more help should have been available for Mr Ahmad.
"We're seeing cutbacks where we're seeing agencies losing more and more resources, more and more front-line resources, some of our most vulnerable people are even less safe," she said.
"That means that we, as the voluntary and charitable sector, have got to step up and we've got to do more than we ever have done before to be the eyes and ears of people who are so vulnerable, and Kamil was one of those individuals."
'Exceptionally dangerous'
Det Ch Insp Richard Ocone of Avon and Somerset Police said Barry "deliberately armed himself" and "purposefully went to Kamil's flat and brutally attacked him".
He said: "Jeffrey Barry may have a history of serious mental illness but at the time he attacked Kamil he knew exactly what he was doing.
"It is clear in the 999 call he subsequently made that he was already thinking of his defence, and the jury rightly recognised he was fully responsible for his actions.
"The public are now much safer with him off the streets for he is an exceptionally dangerous man."
Barry will be sentenced on 10 November.