Synthetic drug Spice use increases in Bristol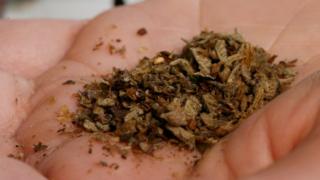 There has been an increase in the number of people using the synthetic drug Spice in Bristol.
The psychoactive substances, formerly known as "legal highs", mimic the effects of cannabis and were banned by the government in May 2016.
The Bristol Drugs Project said it had seen an increase, possibly due to it being more readily available.
Bristol Royal Infirmary (BRI) said there been a spike in Spice-related admissions in the summer.
Maggie Telfer from the Bristol Drugs Project said it had seen an increase in use, mainly among the city's homeless population, due to increased supply.
'Potentially fatal'
"It hasn't been around in Bristol on any scale for a year and a bit... but it's back from about June onwards," she said.
"It's extremely dangerous. People can fall over and damage themselves - they could wander into traffic - but also there is potential for seizures and the potential of it being fatal."
A BRI spokesperson said the number of patients treated after taking the synthetic drug was 24 in June, compared to "six or seven" people in an average month, although the number had since decreased.
Adele Bishop, a nurse at the BRI, said she had also witnessed an increase.
"In March this year we had three Spice admissions, out of 58 drug admissions in total," she said.
"By July the total [drug admissions] exceeded 100, with 20 Spice admissions plus 21 with unknown substances, so some of those could have been through Spice ingestions, too."
Avon and Somerset Police said anyone caught in possession of Spice could face up to five years in prison, and a 14-year sentence was possible for supplying or producing the drug.