South Gloucestershire schools 'worst funded by 2020'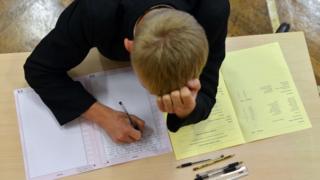 Schools in South Gloucestershire will be the lowest funded in England by 2020, a campaign group says.
National group, School Cuts, which is backed by teaching unions, claims over the next five years funding will be cut by 4% to £4,093 per pupil.
Toby Savage, the Conservative council's cabinet member for education, has questioned the figures.
Ministers say schools will get £4,800 per pupil but the campaigners said that did not account for inflation.
Education Secretary Justine Greening announced in July there would be a new funding formula for schools in England from 2020.
Andrew Baisley, from School Cuts, said: "88% of schools are going to see per pupil cuts in real terms across the country."
But some parents with children in schools in South Gloucestershire are worried about the impact.
One parent, Katie Cooper, said: "You've got experienced teachers being made redundant because they can't afford to be paid."
"It just doesn't seem very just or fair," said Georgina Tankard, another parent.
The Department for Education said funding would be based on "individual needs" of schools.
'Worse off'
It has been "widely welcomed" as it will "put an end to the historic disparities in the system", a DfE spokesperson said.
The Institute of Fiscal Studies (IFS) say that taking into account inflation and an increase of pupils, schools will still be worse off between 2015 and 2020.
Mr Savage said South Gloucestershire had always been one of the worst-funded authorities as it was a relatively affluent area.
He added extra money "should be of comfort" to parents.
But School Cuts insists the government should be putting more money in, adding neighbouring Bristol would lose 9% of its funding.
John Angell, head teacher of City Academy in Bristol, said funding cuts "can be very challenging".
Dr Dan Nicholls, from Cabot Learning Federation, which oversees 15 schools in the Bristol area, called for "certainty" to "ensure the students can get what they need within our academies".