Bristol council boss exits with '£70k golden-goodbye'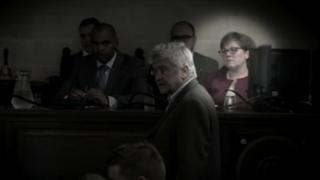 A "£70,000 payout" to a council chief executive who resigned from her post after seven months, has been described as an "astonishing golden-goodbye".
Anna Klonowski left her £160,000-a-year post at Bristol City Council in September to look after her parents.
Opposition councillors claim the "large sum" was an "unnecessary payment" which "cannot be afforded or justified".
But Bristol Mayor Marvin Rees said she was not paid "any additional sum" and left on the terms of her contract.
The council has had three chief executives in the past 18 months but following Ms Klonowski's resignation, it was announced the role would be scrapped.
'Astonishing'
At a council HR committee meeting, Conservative councillor Richard Eddy said it was revealed Ms Klonowski received a "lump-sum cash-payment equivalent to six months salary or £70,000".
He said her contract required her to give two months notice but she left "giving at best one month's notice".
"The words of the contract stated the council 'may' - not 'shall' - pay her salary in lieu of notice," he said.
"And, £70,000 is an astonishing 'golden-goodbye' and in my view cannot be afforded or justified when Bristolians are seeing their council services cut to the bone."
Green Party councillor and HR Committee member, Paula O'Rourke, has also contacted the mayor to find out why "it was necessary to spend money like this".
"Surely the point of a notice period is that you don't get paid for it if you don't work it," she said.
"I believe the unnecessary payment of this large sum was the wrong decision for the mayor to take."
But Mr Rees, said the contract was agreed and "all processes were open and transparent".
"Ms Klonowski was not paid any additional sum and left the council on the terms of the contract agreed by the HR committee in advance of any appointment," he said.
"I have no idea why this point is being raised now."