Hunt for fugitive conman suspect Mark Acklom focuses on family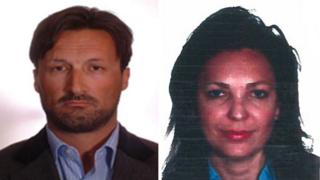 Detectives hunting a man accused of conning a wealthy divorcee out of her life savings have released details of his family in an attempt to find him.
Mark Acklom, 44, was named among the 10 most wanted British fugitives living in Spain, last October.
A woman with whom he had a relationship said he posed as an MI6 agent before disappearing with £850,000 she had lent him.
Avon and Somerset Police have released a photograph of Mr Acklom's wife.
Police believe Maria Yolanda Ros Rodriguez, 47, is likely to be with him and could be assisting him, although she is not the subject of a European Arrest Warrant.
Det Insp Adam Bunting said: "We believe he'll be with his wife Maria Rodriguez and their two young daughters, who we know up until last year's appeal, were enrolled in El Limonar International School in the Murcia area of Spain.
"In the days following the appeal he removed his children from the school and, together with his wife, he disappeared.
He said there were "significant concerns" about the children's wellbeing due to them being "uprooted, with no notice, from their school, friends and family".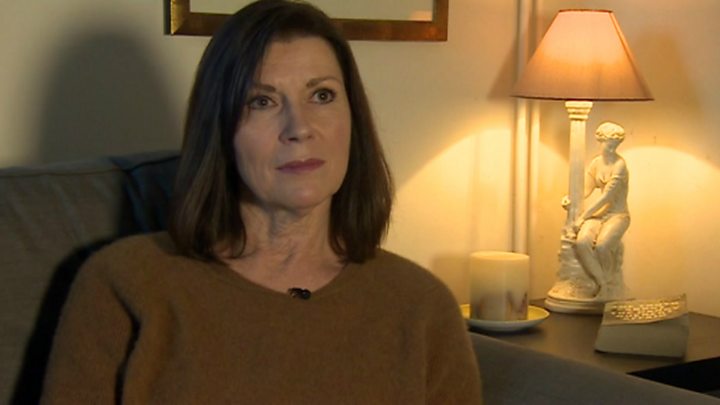 "It's highly likely Acklom will have placed his children in another fee-paying school," he added.
A spokesman said police particularly want to hear from British expats with children in a private international school abroad, who may have noticed the recent arrival of a family from Spain, with daughters aged six and eight.
They said Ms Rodriguez may be using the aliases Yolanda Ross, Maria Long or Mary Moss, and may be teaching or attending yoga classes.
Det Insp Bunting added: "We also have information linking him to Dublin and Italy, but he could be anywhere in Europe. It's possible he may have travelled outside the EU."
In May this year Mr Acklom was apparently photographed in Geneva, Switzerland, but has not been sighted since.
Earlier this year Carolyn Woods, who was working in a boutique in Tetbury, Gloucestershire, when she met him, criticised police for not doing enough to catch Mr Acklom.
She described how he told her he was a wealthy Swiss banker and MI6 agent before disappearing with her life savings in 2012.
Ms Woods said she gave evidence to Avon and Somerset Police, in July 2015, that Mr Acklom was in custody in Spain, but by the time they had got a European Arrest Warrant a year later he had been released.