Student Joshua Walker 'kept terror manual under bed'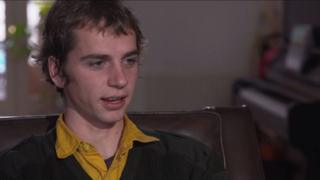 A student had a copy of a terrorism manual under his bed containing instructions on making military-grade explosives, a jury has been told.
Birmingham Crown Court heard Joshua Walker, 27, from Bristol, told police he had "forgotten" about the partial copy of The Anarchist Cookbook.
He claimed he had printed it off for a strategy war-gaming session while at the University of Aberystwyth.
Mr Walker denies a charge relating to possessing terrorist information.
The jury was told the manual contained instructions on making plastic explosives, hand grenades, pipe bombs and detonators.
Last year Mr Walker travelled to the Middle East to help Kurdish fighters and was detained by officers at Gatwick Airport on his return to the UK in December, the court heard.
The manual was found when his bedsit was searched while being questioned.
Robin Sellers, prosecuting, told the jury at the opening of the trial on Monday, that "the case is not about what occurred while away from these shores on that trip".
He said the defendant, now of Conduit Road, Bristol, accepted printing off the document in the university library after searching for it online.
He added that when he produced the print-out for a gaming session, other members of the university club, called the Crisis Games Society, were "a bit concerned".
The jury heard how after the game finished the group organised a fire on a beach "to burn some of the paperwork involved".
"Walker went to that gathering and it is a matter for you whether or not he took the document with him but he certainly did not burn it, as per the plan," Mr Sellers said.
Mr Walker denies a charge of possession of a record of terrorist information of a kind likely to be useful to a person committing or preparing an act of terror.
The trial continues.