Anarchist Cookbook case: Student Joshua Walker cleared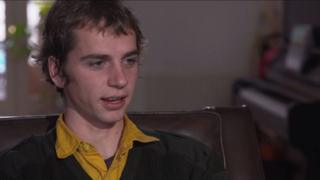 A student has been cleared of having a copy of terrorism manual The Anarchist Cookbook in a drawer under his bed.
Joshua Walker, 27, from Bristol, had travelled to Syria in the summer of 2016 where he said he helped a Kurdish militia group.
He had previously denied a charge relating to possessing terrorist information.
The 111-page partial copy of the manual was found at his university bedsit in Dan-y-Coed, Aberystwyth.
Prosecutors claimed Mr Walker had "no reasonable excuse" for having the document but jurors at Birmingham Crown Court took less than three hours to clear him after hearing his account that he printed the "cookbook" for a role-playing game in 2015.
He said he had "forgotten" about the text, believing it had "been burned" at a beach party along with other material used in the game, and only remembered it when police brought it up.
Mr Walker travelled to the Middle East and was detained by officers at Gatwick Airport on his return to the UK in December, the court was told.
His lawyer criticised the decision to prosecute him and added the document is "freely available online and for sale at well-known internet retailers".
Joel Bennathan QC attacked the Crown Prosecution Service and the government claiming "nothing" was being done to block sale or distribution of the book, which contains instructions on how to make bombs.