Last Dambuster George 'Johnny' Johnson collects MBE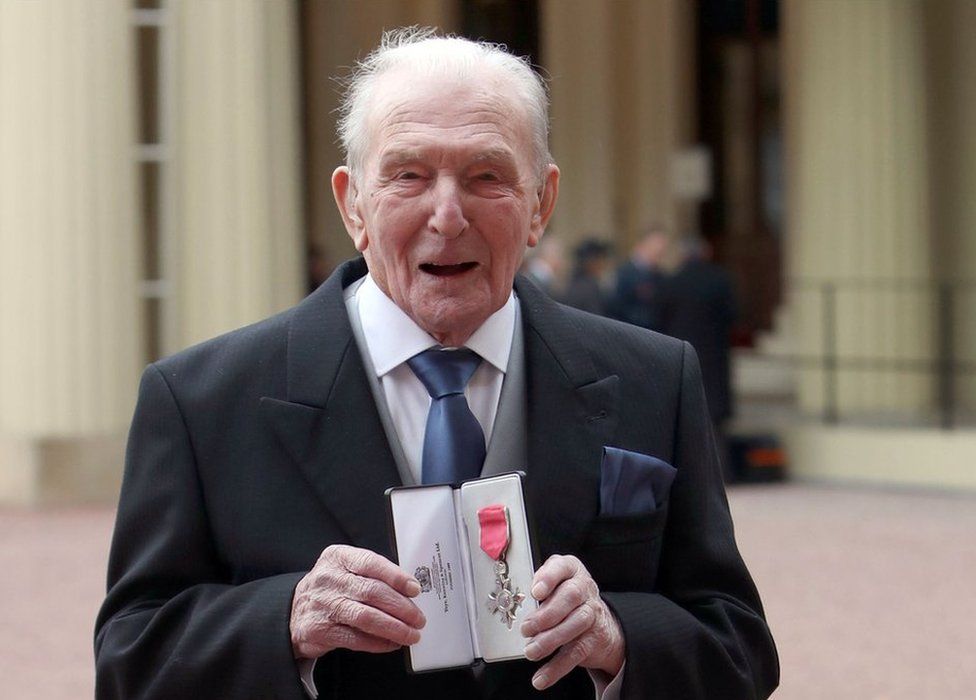 The last surviving British member of the Dambusters raid has been presented with an MBE after a campaign for him to be honoured.
Sq Ldr George Leonard "Johnny" Johnson, 95, was made an MBE for services to World War Two.
After collecting his award at Buckingham Palace, he said the Queen told him she was "glad to see the Dambusters are still here".
Thousands of people signed petitions calling for Mr Johnson to be honoured.
The pensioner, who now lives in Bristol, is now one of only two survivors to take part in the legendary bombing raids on the Mohne, Eder and Sorpe dams in Germany.
The other is Canadian former front gunner Fred Sutherland.
Mr Johnson said he still has "strong memories" from that period, adding: "That is something which will live forever as far as I'm concerned.
After collecting his gong for services to World War Two remembrance and the community in Bristol, he said he was indebted to the thousands of people who signed a petition calling for his wartime service to be recognised.
On 16 and 17 May 1943, a total of 133 Allied aircrew left for the raid aboard 19 Lancaster bombers, carrying Barnes Wallis's specially-adapted bouncing bombs - that looked like "glorified dustbins", according to Mr Johnson - led by Wing Commander Guy Gibson.
Fifty-three men were killed and three were captured.
Related Internet Links
The BBC is not responsible for the content of external sites.