Mark van Dongen acid attack: Victim said he 'wanted to die'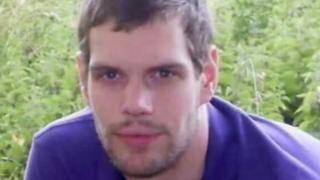 An acid attack victim shouted "I want to die" as he could not bear to live with his injuries, his father has told a court.
Mark van Dongen, 29, was left paralysed from the neck down and lost his left leg, ear and eye following the attack.
Bristol Crown Court heard the Dutch national ended his life in a Belgian euthanasia clinic 15 months later.
His ex-girlfriend, Berlinah Wallace, 48, of Bristol, denies murdering him.
Speaking through an interpreter, Mr van Dongen's father Cornelius told the court that after suffering his injuries his son had to communicate by using an alphabet board to spell out words.
Mr van Dongen said he asked Mark who had attacked him and his son spelled out his former girlfriend's name on the board.
Prosecutors allege Ms Wallace became upset when the couple's five-year relationship ended and threw a corrosive substance over Mr van Dongen as he was lying in bed.
Mr van Dongen told the jury his son was scared of Ms Wallace and had called the police "several times" about her but "received no support".
In the weeks before he died he said his son developed an acute lung infection and was unable to move his arms.
It was "the straw that broke the camel's back" that led him to apply for euthanasia, Mr van Dongen said.
He said Mark told him: "My life has come to nothing and there is nothing left".
He died at the clinic in Belgium on 2 January this year.
The court heard Thomas Sweet, who lived near Ms Wallace's flat in Ladysmith Road, found Mr van Dongen in the street in September 2015.
He said he heard what sounded like "foxes fighting" and then realised it was someone shouting "help me" in an "agonised" way.
Mr van Dongen was wearing just his boxer shorts and said he had "acid chucked on him", Mr Sweet said.
He told the court Mr van Dongen said: "This bitch, this bitch did it to me. My ex did it".
Mr Sweet then called an ambulance and took Mr van Dongen to a neighbour's flat and helped him shower.
Mr Sweet said he asked him: "Do you want the police here?" and Mr van Dongen replied: "They need to be here, she needs to pay."
Another neighbour, Dr Nicola White, told the court she was woken up by "the sound of a gentleman outside in the street screaming".
Dr White said she went out and saw Mr van Dongen, who was "grey from his head to his chest".
She helped Mr Sweet take Mr van Dongen in to shower him and said he turned to her, pointed to an open door and screamed: "She did it to me in there. She did it to me."
Dr White said as they passed the door, she looked in and saw "a lady sitting on the sofa on her mobile phone appearing to talk. She looked sullen and serious".
'Chemical acrid smell'
Police officers told the court Mr van Dongen had "significant injuries" from a "substance poured over his body".
PC Thomas Green travelled in the ambulance to hospital and said the victim was "clearly in a lot of pain and screaming in agony".
"I asked him who the offender was, he said Berlinah and pointed to a tattoo [of her name] near his belly button.
"He said he was concerned for V's [his then girlfriend] safety and concerned she would target her as well."
PC Daniel Fortune described a "chemical acrid smell, which was quite strong" in the flat.
He told the jury Ms Wallace was sat on the sofa, "calm and collected".
Ms Wallace admits throwing a substance over Mr van Dongen but denies any intent to cause him harm.
She says she believed she was throwing a glass of water over him and denies murder and applying a corrosive substance.
The trial continues.