Mark Van Dongen acid attack trial: Victim 'just wanted to die'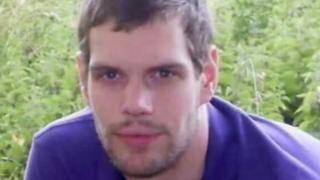 The girlfriend of an acid attack victim told a court he said "I just want to die" after his former partner allegedly threw the liquid over him.
Mark Van Dongen, 29, was left paralysed from the neck down and lost his left leg, ear and eye following the attack.
Violet Farquharson told the court she spoke to him briefly in hospital and he was "crying out in pain" as he was being taken to the operating theatre.
His ex-girlfriend, Berlinah Wallace, 48, of Bristol, denies murdering him.
Bristol Crown Court heard the Dutch national ended his life in a Belgian euthanasia clinic 15 months after the alleged attack.
Giving evidence from behind a screen, Ms Farquharson told Bristol Crown Court she went to hospital after being told by police her boyfriend had been attacked.
"He was crying out in pain so much that he didn't know I was there," she said.
She told the trial he had come to her home on the evening of 22 September 2015, before going to see Ms Wallace.
"He basically said that he didn't want to be with her, he wanted to be with me and he talked a bit more about going forward, about our relationship and what our goals were as a couple."
Mr Van Dongen told Ms Farquharson he would not return that evening but would see her in a few days.
He left to go to Ms Wallace's flat at 22:00 BST and argued with the fashion student, who told him she would go and stay in a hotel, the court heard.
At about 03:00 BST on 23 September, Ms Wallace allegedly shook Mr Van Dongen awake and threw acid over his face and body.
Ms Wallace admits throwing a substance over Mr Van Dongen but denies any intent to cause him harm.
She says she believed she was throwing a glass of water over him and denies murder and applying a corrosive substance.
Mr Van Dongen died at the clinic in Belgium on 2 January this year.
The trial continues.