Clipper Round the World Race sailor 'died after tether failed'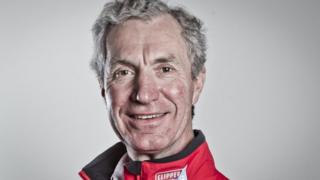 A sailor died after being swept overboard during an international yacht race because his tether failed, the race co-founder said.
Simon Speirs, 60, from Bristol, was taking part in the Clipper Round the World Race leg from South Africa to Australia.
The retired solicitor, who was wearing a life jacket, was washed over the side during gale force winds on Saturday.
Sir Robin Knox-Johnston said a full investigation would be carried out.
He said: "It's very hard to be 100% positive what actually happened on the occasion.
"What we do know is that he was clipped on and somehow his tether failed in some form or another, and he was washed over the side of the boat.
"We're not going to know more until such time as we have examined the equipment and talked to the crew."
Sir Robin described Mr Speirs as an experienced sailor and a "steady, sensible reliable person".
"It's inconceivable in my view that he got something wrong. He's not that sort of person."
According to a statement from Clipper, Mr Speirs was sailing for Great Britain on board the CV30, which was in sixth place and had reached the Indian Ocean.
It said at the time of the accident, the boat was in the Southern Ocean, in what were rough seas with 20 knots of wind and gusts at 40.
The death of Mr Speirs is the third in the 21-year history of the Clipper race.