Conservative MP Jack Lopresti faces investigation over behaviour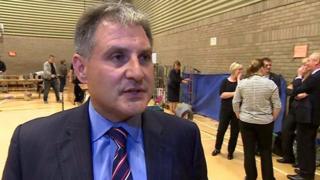 A Conservative MP is facing a party investigation after a formal complaint from a former member of staff.
The ex-office manager said she resigned due to the behaviour of Jack Lopresti, MP for Filton and Bradley Stoke.
The BBC understands several people have left Mr Lopresti's office in recent years, amid allegations of angry outbursts and poor people management.
The MP's spokesman said "staff matters" had been dealt with in conjunction with "Houses of Parliament HR authorities".
The woman, who resigned from working as Mr Lopresti's office manager in March this year, and who the BBC has chosen not to name online, reported her concerns to the Conservative Party's new code of conduct hotline and has since made a formal complaint against the MP.
She said Mr Lopresti "failed to treat others with the respect he felt entitled to" and that she and others "often trod on eggshells in fear of an angry outburst".
She added that the MP also treated her "appallingly and thoughtlessly" by asking her to explain why she should not be sacked over performance issues immediately on her return to work after a family bereavement.
"I could not believe it, I was devastated, just crushed," she said.
'Temper tantrums'
She said she had previously sought help with HR in Parliament, the whip's office and her local Conservative Party chairman, but nothing was done.
Mr Lopresti has been described to the BBC as "prone to angry meltdowns", "bullying" and having "temper tantrums".
One source said it was "humiliating to be treated this way by him", and a former staff member said they "had had enough" and resigned.
"It's a culture in his office; no-one can be honest with him because of his temper," they added.
However, two former staff members said they had had a good relationship with Mr Lopresti, and that he was a good employer.
A spokesman from the MP's office said: "Mr Lopresti's staff matters have been dealt with in conjunction with the Houses of Parliament HR authorities, and, as such, Mr Lopresti will not be commenting."
The House of Commons said MPs employed staff members, and its ability to intervene was limited but support was available.
The Conservative Party has not responded to a request for a comment by the BBC.