Kelly Yeoman's body 'filling with own faeces' after surgery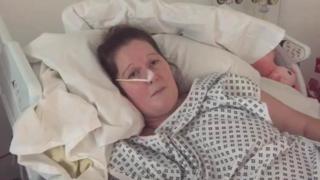 A woman's body is "filling with her own poo" after complications following a routine operation, her friends say.
Kelly Yeoman, 34, was admitted to Bristol's St Michael's Hospital in August to check for endometriosis.
Her bowel is unable to function and she has been left "slowly suffocating", according to friend Peter Rankin, who fears she may not survive.
North Bristol NHS Trust said "staff had developed a good relationship with her, ensuring any concerns are addressed".
The trust, which runs Southmead Hospital where she has since been moved, added: "We have been in regular contact with Ms Yeoman regarding her care following a surgical procedure that was carried out elsewhere."
'Struggling to breathe'
Ms Yeoman has had two further operations in an attempt to correct the problem.
Mr Rankin, who shared an X-ray photo of Ms Yeoman's condition, said she had been unable to go to the toilet for 15 weeks.
He said she is "regularly vomiting" and "struggling to breathe", and her bowel could perforate "at any moment".
"She is almost unrecognisable as our happy, strong and determined friend," he said.
In a video from her hospital bed, Ms Yeoman, from Cadbury Heath described the feeling as "literally just being crushed by myself".
She says her lungs and diaphragm have been pushed up so she can't "get a full breath".
Ms Yeoman says she's been told by doctors at Southmead hers is the most complex case they have seen, in part because she is allergic to many types of medication.
Her friends are trying to raise thousands of pounds to have her treated privately at a specialist centre in London.
They said their campaign was "not a rant about the NHS or an attack on Southmead Hospital", where she had been "treated kindly and well".
But the time had come for "specialist intervention", they said.
Carolyn Mills, chief nurse at University Hospitals Bristol NHS Foundation Trust, which runs St Michael's Hospital, said: "We are so sorry to hear that Kelly Yeoman has concerns and questions about her treatment at St Michael's Hospital.
"She has not raised these with us since she had the procedure in August and this means that we've not had the chance to either talk to her or investigate those concerns.
"We will now contact her to take this forward."