MP Jack Lopresti claims he is victim of 'witch-hunt'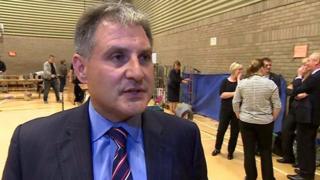 A Conservative MP claims he is the victim of a "witch-hunt" after a former member of staff made a formal complaint about his alleged behaviour.
Jack Lopresti, MP for Filton and Bradley Stoke, is being investigated by his party after his ex-office manager said he treated her "appallingly".
The MP also faces allegations from another politician who claims he behaved "abominably" towards staff.
Mr Lopresti said he was taking legal advice.
The BBC understands staff have left Mr Lopresti's office in recent years, amid allegations that he was "prone to angry meltdowns", "bullying" and having "temper tantrums".
'Profound unhappiness'
Mr Lopresti's former friend and Bristol City Council Conservative councillor Richard Eddy, told the BBC that he believes that he treats his staff "abominably" and there is "profound unhappiness and tense atmosphere in the constituency office".
He added: "I have never heard of so high a turn-over of staff in a relatively junior MP's administration office."
However, in a statement, Mr Lopresti said the allegations come from a group of people who he believes wanted to stop him being reselected before the last general election.
"I would say to these people that they have to accept that they failed to get me de-selected... This personal witch-hunt must stop."
'Very different recollection'
Mr Lopresti added that the claims about his behaviour by his former office manager are "not correct".
The woman, who resigned in March, and who the BBC has chosen not to name online, reported her concerns to the Conservative Party's new code of conduct hotline and has made a formal complaint against the MP which is being investigated by the party.
She claims that she and others "often trod on eggshells in fear of an angry outburst" from the MP.
Mr Lopresti said he believed he "did all I could to help her" after a family bereavement and claims other members of his team have "a very different recollection of events".
He added that she was invited to two meetings, one before and one after her resignation, and declined to make any allegations against him or start a grievance procedure.