Bath Spa University chief paid £800,000 in final year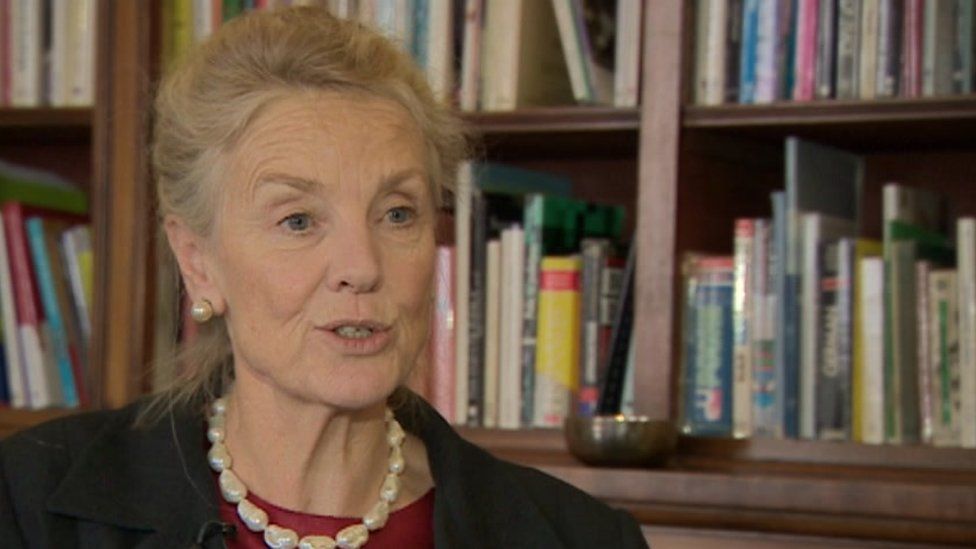 A university vice-chancellor was handed more than £800,000 in her final year, including a hefty departure payment, it has been revealed.
The University and College Union (UCU) has called for an "urgent overhaul" of senior pay at British universities.
A spokeswoman for Bath Spa said the sum represented "value for money".
Prof Slade, who served as vice-chancellor until August, was also given a housing allowance of £20,000 and another £20,000 for "other benefits-in-kind".
There were also pension contributions of £89,000.
In total, she received a pay package, including benefits and pensions, worth £808,000, after she decided to leave the job.
Lord Adonis, who is pushing the issue of vice-chancellor pay in the House of Lords, said: "If £800,000 represents value for money for a vice-chancellor, then I am the emperor of China."
How many students' tuition fees did the salary and benefits cost?
Bath Spa University charged £9,250 a year for an undergraduate degree starting in 2017. That is £27,750 for a three-year course.
Prof Slade's £808,000 pay was equivalent to 87 students' fees for a year or 29 students' entire degrees.
The whole pay package, including compensation for loss of office, was also almost double the amount earned by Dame Glynis Breakwell, who is standing down from the nearby University of Bath following a row over her pay.
The median annual salary in the UK is £23,474. In Bath it is £23,082.
Bath Spa University has not yet given details of the circumstances of her departure, but an interim vice-chancellor, Prof Nick Foskett, is running the university until January.
An incoming vice-chancellor, Prof Sue Rigby will be taking over on 22 January. She is due to be paid 20% less than Prof Slade received in 2015-16.
A spokeswoman for the university said: "Having taken legal advice, the university paid Prof Slade a sum which reflected her contractual and statutory entitlements, and was considered to represent value for money."
She said that the vice-chancellor's salary was decided by a pay committee, which did not include the vice-chancellor or staff.
The committee was "mindful of the need to respond to concerns about excessive salaries and take into account the performance of the university", she added.
Lord Adonis said such high rates of pay were not acceptable when students could potentially be racking up debts of £100,000 because of the way interest was stacking up.
He added that it was not the case that England was losing vice-chancellors to the US, it was simply that universities had seen an explosion in income through higher fees.
He is calling for a independent investigation into the pay of vice-chancellors.
Bath Spa University describes itself as a creative university with about 7,000 students and 1,000 staff.
It was awarded university status in 2005 after seven colleges joined together to make the new institution.
Prof Dame Glynis Breakwell announced she was resigning from the University of Bath after a row over her £468,000 salary.
UCU general secretary Sally Hunt said that when it came to senior pay in universities "many vice-chancellors and senior staff look like they are living on a different planet".
She called for greater transparency into how senior pay awards were decided, with staff and students included on remuneration committees.
"We are seeing what happens when decisions are taken in secret without proper checks and balances," she added.
"This simply cannot be allowed to continue; we need an urgent overhaul of how senior pay and perks are determined, and how our universities are governed."
But Bath Spa said the former vice-chancellor had led the university during a during a turbulent time for UK higher education and it had "flourished" during her tenure.
It was now widely recognised as a centre of excellence for creativity, culture and enterprise, it said.
A spokesman said: "During her leadership, Bath Spa University has been transformed from a regional British university to a truly global institution, ranked eighth best modern university in the UK by the Sunday Times in 2016.
"As well as major campus developments, Prof Slade has overseen a transformation in teaching and research, with additional professorial posts created and a significant increase in research activity and income."
She had also internationalised the university, giving students greater opportunities for outward mobility across the world, the spokesman said.
Related Internet Links
The BBC is not responsible for the content of external sites.