Bristol Rovers named for underpaying minimum wage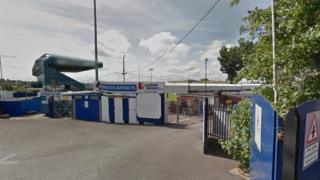 One of Bristol's football clubs has been "named and shamed" for underpaying staff.
In a list compiled by the government, Bristol Rovers FC is said to have failed to pay £1,651.86 to 52 workers.
Primark and Sports Direct are also on the list of 260 firms which have had to pay thousands of pounds back to staff.
Bristol Rovers, which plays football in League One, has been contacted by the BBC for a response but is yet to comment.
Nigel Costley, from the TUC South West, said it was "shocking" to see see football clubs like Bristol Rovers "in the mix".
"The current minimum wage barely covers a workers' basic household expenses, so to pay less than this is appalling," he added.
A number of football clubs were named on the government's list including Wolves and Torquay in England and Motherwell; Greenock Morton and Falkirk in Scotland.
The report from the Department for Business, Energy and Industrial Strategy covers the period between 2010 and 2017.
It was the 13th time such a list has been compiled, and this year saw more workers receive payments than in previous years.
Across the UK, a total of £1.7m in back pay was given to 16,000 workers.
Fines totalling £1.3m for underpaying the National Minimum Wage and National Living Wage rate were handed out to 260 employers, with retail, hospitality and hairdressing being the most prolific sectors named.