'Nothing left to steal' as burglars target fire-damaged home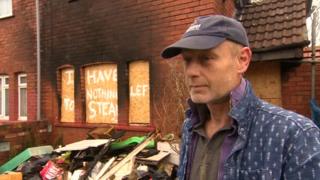 The owner of a house which was badly damaged by fire last month has written a sign on the boarded-up windows saying, "I have nothing left to steal".
John Humphreys, who lives in Southmead, Bristol, said his property had been targeted by burglars several times since the blaze.
"Everyday I come back from work wondering what they are going to do next," he said.
The fire apparently happened after he had dropped a candle.
Mr Humphreys said his trailer had been broken into while he was sleeping in it, and another night his power tools were taken.
"Then I was loading up my car with some scrap and while I was locking up they were round the front loading it into a van," he said.
"I used to have some beautiful things, I set fire to just about most of them and they come back for what's left.