Alison Connolly murder: Killer has appeal rejected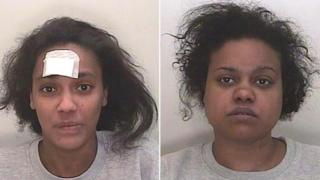 A woman jailed for murdering a mother of eight has had an appeal against her conviction and sentence rejected.
Lawyers for Charice Gassmann, 21, said she was suffering from a mental health condition when she stabbed Alison Connolly to death in Swindon in 2015 and was wrongly convicted.
She was jailed for life with a minimum term of 19 years in December 2015.
Court of Appeal judges said the conviction was not "unsafe" and the sentence was "justified".
Gassmann stabbed Ms Connolly, 49, in the communal area of a block of flats at Evelyn House, Park North, in May 2015.
Ms Connolly was attacked after a disagreement over a moped belonging to her daughter's boyfriend.
'Unstable personality disorder'
During her appeal, Adam Vaitilingam QC said Gassman had denied murder on the basis she had been provoked by an attack by Mrs Connolly and lost her self-control.
He said her reaction to the "provocation" may have been heightened by a "significant" mental disorder.
However, the jury had been specifically directed by the trial judge not to take it into account when considering "her capacity for tolerance and self-restraint", he said.
Dismissing the appeal on Tuesday, Lady Justice Hallett said she did not consider it "harsh" to uphold the murder conviction.
Lady Justice Hallett, who heard the case with Mr Justice Spencer and Mr Justice Lavender, said: "We have no doubt the judge was correct in the way he directed the jury."
"There is nothing unsafe about the conviction."