Plane comes off Bristol Airport runway after landing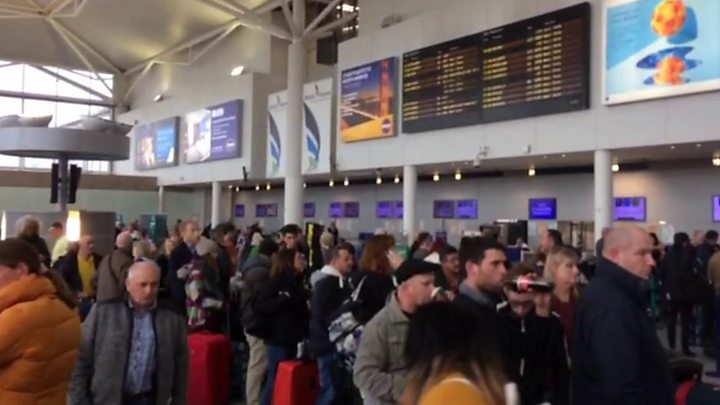 A plane carrying 25 people came off the runway after landing, forcing the suspension of flights in and out of Bristol Airport.
The Embraer 145 aircraft, from Frankfurt, left the runway as it taxied to the terminal just after 11:30 GMT.
"No-one was hurt and passengers were disembarked and returned to the terminal by coach," a spokesman said.
At least 45 arriving flights and 28 departures were cancelled or diverted to other airports.
The airport announced that the plane had been moved shortly before midnight, but warned of knock-on delays.
The Air Accidents Investigation Branch (AAIB) confirmed it was sending a team to the airport.
Passengers on EasyJet flights to Inverness, Prague, Belfast and Geneva were told to collect their bags and make alternative flight arrangements "from home".
Other airlines affected include Ryanair, Aurigny, Aer Lingus, KLM, BMI Regional, Flybe, Thomas Cook, and TUI.
Airline operator BMI tweeted that its flight BM1822 from Frankfurt was the plane affected.
"All 22 passengers and three crew aboard the Embraer 145 jet disembarked safely with no reported injuries. Emergency services attended as a precaution," the airline spokesman said.
---
What are my rights?
The Civil Aviation Authority says the delays at Bristol Airport would almost certainly fall into the category of "exceptional circumstances" - ones which are outside the control of the airlines - so passengers would not be able to claim compensation for the delays or cancellations.
But a CAA spokesman said there is a duty on the airlines to provide reasonable "care and assistance" to passengers unable to travel.
This could include phone calls, meals, food and drink, or overnight hotel accommodation with transport there and back to the airport.
---
The airport said the runway would remain closed while investigations begin, the plane is towed away and debris cleared.
"We're unable to confirm a time that the runway will reopen at this time," a spokesman said.
"While it is too early to speculate about the cause of the incident, we are confident that it was not related to the low visibility conditions currently being experienced."
The airport said additional staff were being brought in to assist passengers.
---
At the scene: Andrew Segal, BBC News
Passengers were told at 12:30 GMT that all flights inbound and outbound were suspended due to "an incident", although they were not initially told the nature of it.
Rumours soon started about a plane coming off a runway, which was later confirmed by airport staff - who stressed no-one was hurt.
People are staying calm in the terminal, although those who have had flights cancelled at this busy time are now having to decide whether to get alternative flights out today or tomorrow, or give up their plans.
---
Dave Joyce, who was due to fly to Javea in Spain with his family, said his plane was diverted away from the airport.
The 53-year-old finance worker said: "Nothing's moving at the minute and we haven't had any information at all.
"People keep coming but nobody's leaving, so it's all getting pretty crowded just now.
"We've got seats in a restaurant, so we're OK, but my wife's mother is in a wheelchair.
"A great start to the Christmas break... Javea seems a long way away now."
Bristol Airport said more than 190,000 passengers were due to use the airport between 22 December and 1 January - a 5% increase on the same period last year.